Miniature painting on the wood it's a mission
Maybe even something more. I have always been passionate about various forms of artistic expression. As a kid, due to the lack of wax, I once made a beautiful cutout from a whole roll of toilet paper. Don't ask me why. Left to fend for me, with only a few items around, I just found something to do. I was 5 or 6 years old. Later, countless amounts of chalk graphics in the parking lot in front of the house, other smudges, shelters, bases as well as self-made outfits or a school newspaper. They are just road elements.
The first mural
I made it with my brother and our neighbor. One year, the walls of the block where we lived became our canvas. Armed with a handful of freshly cut grass, we expressively expressed our emotions related to the onset of the summer holidays. Our story could gain wind in its sails here if it is not just one little thing. Unfortunately, our craftsmanship was not appreciated, and the work was not appreciated by adults. We were given a bowl of water and a rice brush in our hands, after which we had to destroy the work of art, which probably were grassy smears.
Today I don't just paint. Miniature painting on wood is just one of my paths. I also do many other things. Find out more in the dedicated section.
First of all, the little ones
My greatest passion is miniatures. I paint them preferably on watercolor paper or wood. I painted my first miniature when I was 9 years old. It showed a trouser rabbit climbing the stairs, and my mother had hung it on the kitchen wall.
Artistic awareness
The first conscious miniatures started to come out of my fingers in the fall of 2014. Back then It was a very intense time. Finally, I began to notice and understood my mistakes. I seriously started to equip my workshop with the necessary accessories and art materials. I was painting daily for 8-9 hours. After a few months, I knew that I did not want to limit the miniature to paper – I started experimenting with fabrics, shells, stones, wood & metal.
Now and the future
Today I paint mainly with watercolors and gouache, on cotton or on wood and its composites. Sometimes I also use acrylic or oil paints and a small canvas. In larger formats, I like to return to dry or oil pastels, crayons, and paints. I am also still developing my workshop and experimenting, exploring the issues that interest me and discussing with other creators, and more.
What's next? I do not shy away from painting and doing other things. However, currently, the most interesting forms of artistic expression for me are mini pictures, miniatures, and tiny worlds enchanted in them. Moreover, I like to think that my miniatures hibernate with unique moments and fleeting impressions.
My existing thumbnails are currently being distributed by my partner whose shop I link below.
Hand-painted jewelry
The specificity of the miniature and the tradition from which it is derived directly encourage it to have a modern functional form. For me, it is jewelry – painted mainly on wood or hand-made wooden composites.
Miniature painting on the wood. – The idea for ornamental miniature paintings has been sourced from my passion for nature and beautiful things. I use modern materials, tools, classic craftsmanship and artistic techniques to create cabochons and artistic beads.
Themes of painting work. – I love to paint totemic animals and plants – spiritual guardians who have accompanied man since the dawn of time.
Each tiny picture I paint with exceptional precision, using artist-quality paints or inks. I make every little detail myself, making every effort to ensure that the final effect is amazing.
Used techniques. – In my opinion, each picture should have a frame. So I frame my painted jewelry. Sometimes they are minimalist elements made of precious metals. Gladly I also use traditional handicraft techniques: macrame, beading, peyote and brick stitch, bead embroidery, wire wrapping, cold metal forming, resins, and various plastic materials.
Paintings. – They are single specimens. I use only paints and brushes to create them, so it takes a few days or even weeks before they are completed. Therefore, please be patient and calculate the time. The process of pouring a jewelry resin onto a painting and the time of its full hardening takes two weeks. I have a rule that only work that is properly secured does leave my studio.
Bead embroidery. – The same applies to bead embroidery, which is a time-consuming technique and the time of order fulfillment depends not only on the number of pending applications but also on the complexity of the project, its size, and the availability of materials from which it is to be made.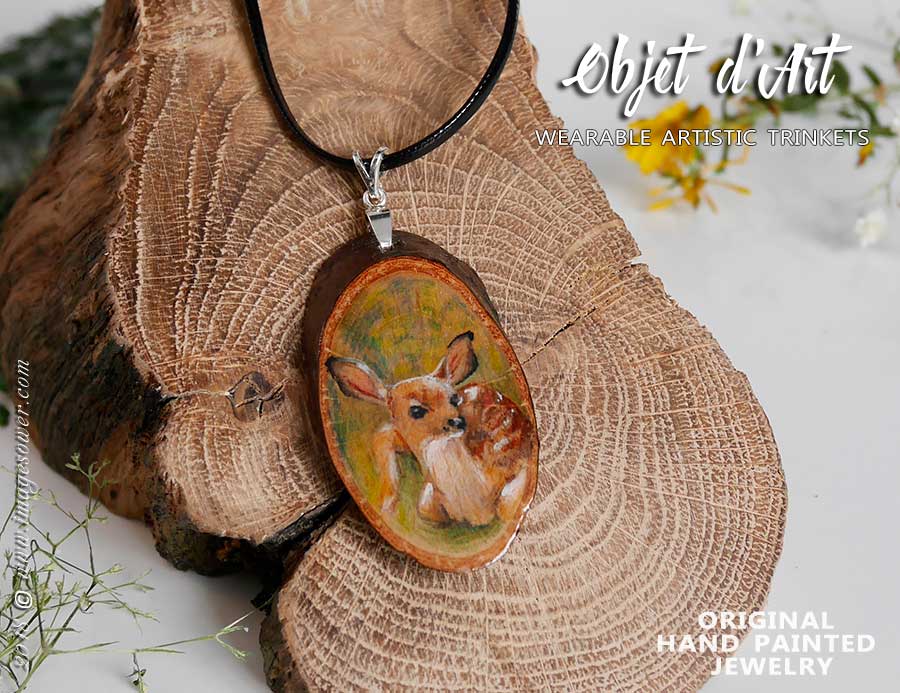 Thank You!
Although this entry ends here, our story continues 🙂
Hope I was able to clear up a few points. At some point, I have to hit myself on the hands not to write anymore. The issues surrounding my workshop are fascinating. Digressions, stories, and funny situations are endless, as are numerous failures and disappointments.
If you want to stay in touch longer, I encourage you to subscribe to my newsletter. I send it quite sporadically, but it is full of valuable content, advice and news from my studio. Check, you will probably find something for yourself.
See you soon!
Kasia
/* Kate */