Hi there!

We are imageSOWER, the artistic atelier.

We develop beautiful things such as paintings, posters and hand painted jewelry. Also we create unique examples of custom made decorative subjects and toys. We invite you to visit our gallery, some of items there are still available to purchase.
Przemek
IT geek. Beside Przemek holds three titles for imageSOWER: camera operator, video editor and peon. His one true gift to the company is the exceptional talent to perform any task with underwhelming results. Known for being the most cool dude anywhere, Przemek can be found performing a variety of tasks in our office as well as taking heavy tasks in the field.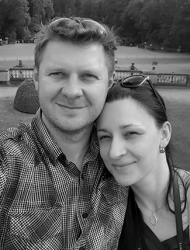 Kasia
She is the founder, owner, and leading dreamer at imageSOWER. She spends the majority of her time fulfilling custom orders for clients, but she is also responsible for supplying the dangerously unhealthy amounts of caffeine, as well as being the main creative force, which keeps the company afloat. Multitask person, resident tactician and strategist.
Thank you for visiting our page!
Want to stay up to date?
Don't miss out special offers and Promo Codes from Us. Subscribe to our newsletter.
Coffee donation
If you do not like to support imageSOWER by your purchase, maybe you would consider a coffee donation?