Hi there!

We are imageSOWER, the atelier combining art with craft techniques.

We develop beautiful things such as paintings, posters and hand painted jewelry. Also we create unique examples of custom made decorative subjects and toys. We invite you to visit our gallery, some of items there are still available to purchase.
Przemek
Przemek is responsible for three main things in imageSOWER: camera support, video editing and logistics. Also he supports some specialized activities that accompany our everyday life. His amazing power is the ability to perform various new tasks with an unexpectedly good end result. As a master of relaxation, he copes well with static tasks in the office as well as with special tasks in the field. There are those who have seen him, like in the shadows of a black arrow, roaming the backwoods of our beautiful country.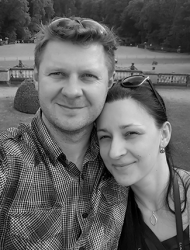 Kasia
The leader is Kasia, who is a modern the Renaissance person. In addition to everyday issues related to making things, creative stuff, service and order processing, building and refining websites, she is responsible for assuming dangerously high doses of caffeine and being the main creative force of the studio, which allows us to drift today. Also known for being multi-task person, full-time strategist and tactician. Every day you can meet her on instagram @objet_jewels
Thank you for visiting our page!
Want to stay up to date?
Don't miss out special offers and Promo Codes from Us. Subscribe to our newsletter.
Coffee donation
If you do not like to support imageSOWER by your purchase, maybe you would consider a coffee donation?